Our Exclusive Quality & Value Guarantee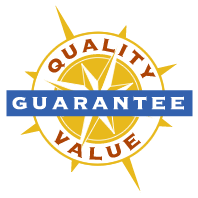 Natural Habitat Adventures has committed to you that our trips are of the highest quality at the best value, and we back that up with our exclusive Quality & Value Guarantee. An African safari should be a positive, deeply meaningful experience that remains with you for a lifetime. Whether you select an immersion in high luxury or a more modestly appointed adventure, the quality of your safari program must be outstanding, and the price paid should reflect that value.
1) The Best African Safari at the Best Price
If you book an African safari with Natural Habitat Adventures, and on the off chance you find a trip that matches our itinerary and inclusions at a better price, even after you've booked with us, we will gladly refund the difference. Just notify us prior to booking or within 30 days after your initial booking that you have found a U.S.-based company offering the same itinerary over similar dates at a better rate, and we'll match it.
2) Africa Safari Satisfaction Guarantee
Natural Habitat Adventures guarantees that your safari in Africa will meet the lofty expectations we set, or we will gladly give you a credit toward a future trip! We're so confident our Africa tours offer a life-enhancing experience that we stand behind their quality with what we believe is the best guarantee in the Africa travel industry. This satisfaction guarantee can apply to an entire trip or to a portion of a trip. For example, should you find that the safari camp accommodations do not match the standards we promised in our materials but the rest of the trip was great, we will apply that accommodation portion of your safari cost to a future trip. Some items cannot easily be quantified, so, on the off chance you are dissatisfied with an element that does not have a straight dollar value, we'll work with you to come up with a credit amount. Our Operations department will make final decisions on compensation values. The important thing to remember about our guarantee is that the trip must meet expectations set in our materials, not unreasonable expectations that do not match the promises we've made. And, of course, we can't control nature or natural circumstances such as weather and wildlife movements, which sometimes deviate from expected patterns. But when it comes to the inclusions, activities and accommodations we have arranged, we'll deliver—we guarantee it!
You'll see that we've made some pretty bold promises, so the standards we've set are already very high.