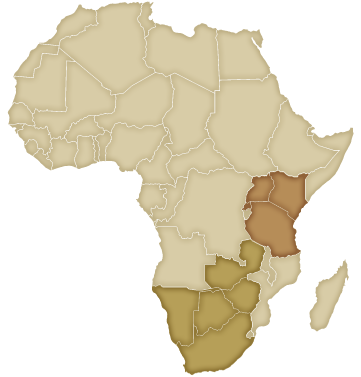 Your Go-To Site for All Things Safari
iSafari.com is the number-one online resource for travelers who wish to research and plan an authentic African safari. Read about safari countries and wildlife, explore different safari regions, review expert and traveler opinions on myriad high-end safari camps in remote locales, and peruse sample itineraries. You can even build your own trip and create a personal safari journal to share with family and friends. Do all of this for free – get started with the click of a mouse!
Africa Safari Planner Tool
An important feature on iSafari.com is the Africa safari planner, a unique and exclusive tool developed by Natural Habitat Adventures to help travelers plan their perfect safari. From Botswana's Okavango Delta to the famed Maasai Mara in Kenya, from Tanzania safaris to view the Great Migration to South Africa's Kruger National Park and Cape Town, the Africa safari planner can make your safari dreams a reality. As World Wildlife Fund's sole conservation travel partner, Natural Habitat Adventures has been operating the highest-quality African travel adventures for more than 25 years, earning the trust of thousands of travelers. Now, this new and exciting interactive online instrument allows us to electronically guide you in making your plans. Go at it and have fun! Remember, you can always call us for advice... 1-800-543-8917.
Camp Ratings & Reviews
iSafari.com's hundreds of camps feature reviews and ratings by real travelers sharing their first-hand experiences. You are also able to rate and review as many camps as you wish, and share your own opinions with friends and family. You can search for a camp by country, region or the level of accommodation, read reviews and information about that camp, or write your own testimonial based on your time there. You will be able to see your review immediately and share it with friends and family via email or Facebook. Maybe you have a friend planning a safari to Africa, and you want to share your thoughts on a safari camp that you've been to in Kenya, or perhaps you just want to get your views out there as a seasoned traveler. Whatever the reason, iSafari.com is your resource for the best African safari camps.
Best Time to Travel to Africa
What is the best time to travel to Africa? This is a common question, and one of the first that travelers ask. The Best Time to Travel tool on iSafari.com allows you to search by the country, region and/or month for average temperatures, rainfall, major wildlife sightings and more information that will help you determine when to go to over 50 different national parks, wildlife reserves and safari conservancies in Africa. It's a useful and fun tool to get you thinking about your safari, and you can always call us to assist in narrowing down the options based on your requirements and desired experience. Our staff often has unique insights into the pros and cons of visiting different areas throughout the year... 1-800-543-8917.
Safari Countries & Wildlife
Using iSafari.com, you can find detailed information on African safari countries, including the best wildlife parks and nature reserves in each destination and recommendations on how to include them in your safari itinerary. You'll also find specifics on the wide variety of African wildlife you're likely to see on safari. For more guidance on the multitude of safari options available, call us at 1-800-543-8917 or submit an inquiry on our Get Advice form.