Browse and Review Safari Camps & Lodges
African safari camps and lodges vary tremendously in style, comfort and facilities. From luxury camps in the Okavango Delta to more simple and remote mobile safari camps in the Serengeti, the choices are seemingly endless. iSafari.com features hundreds of camps and lodges (and we are adding more regularly) so you can research and review the camps of your dreams. Our team of experts has spent thousands of days on safari (and nights in safari camps) and have added their opinions on select camps. Many of these camps are also included in our Africa Safari Planner, an innovative tool that will help you in arranging the perfect safari adventure!
To read and write camp reviews, search for a camp by the country or region below, or search by typing in a camp
name. Choose a camp from the search results, and follow the links on the camp page to read reviews and write your own.
Traditional Camps
& Lodges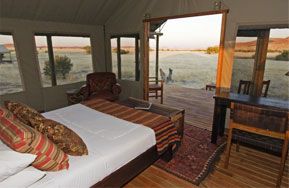 Traditional safari camps and lodges provide an authentic safari experience of days gone by. Much more than just thatched tents (they all have fully furnished beds and private bathrooms!), these permanent and mobile camps tend to place safari-goers "out there" where the sights and sounds of Africa are enhanced by simple yet classic furnishings under canvas and thatch — hear the magic of Africa through your tent at night!
Distinctive Camps
& Lodges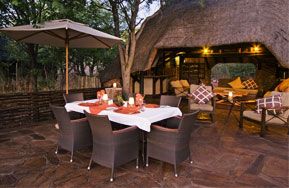 Luxurious yet not opulent, Distinctive camps and lodges offer a genuine safari experience combined with superior amenities at a more affordable rate than the more lavish accommodations. Often constructed of local materials that blend well-appointed canvas-sided chalets into the environs, these camps provide guests with an experience of the remote splendors of Africa while offering a remarkable and unexpected level of luxury.
Premier Camps
& Lodges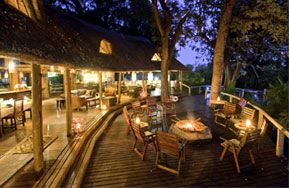 Premier camps and lodges are especially designed to provide the most discerning travelers with unsurpassed luxury in the bush. These properties tend to offer extraordinary locales, awe-inspiring views, and the finest premium, hand-selected furnishings and amenities, all while maintaining the opportunity for guests to experience Africa in an up-close and personal manner.